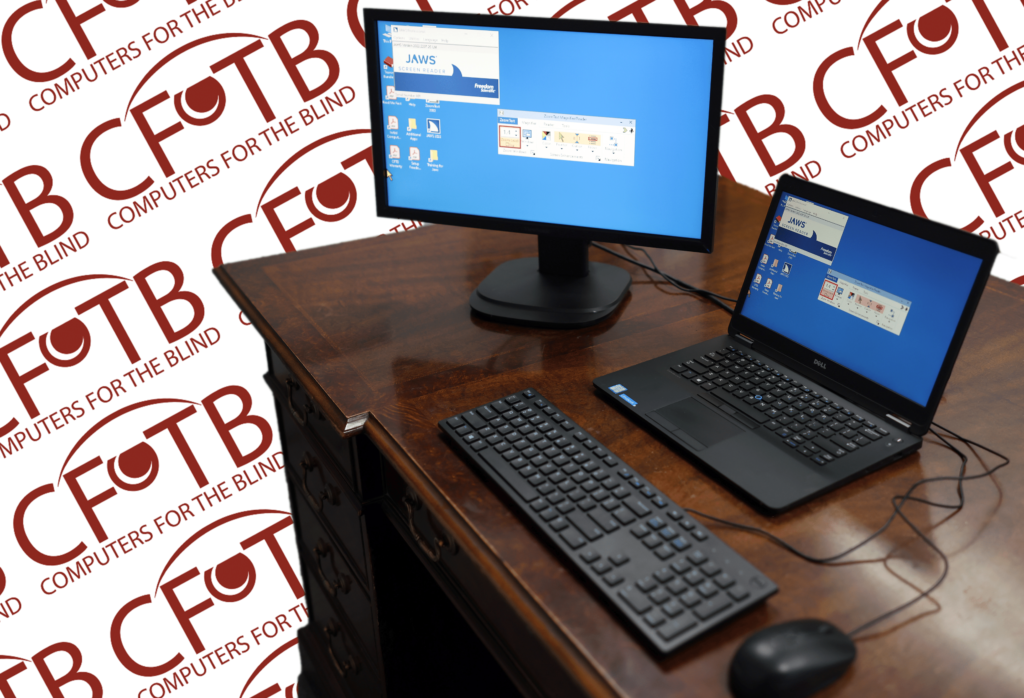 Thank you for your interest in one of our computers! Our computers are available to any individual with a visual impairment in the United States. Please continue reading for more information on our computers and to submit your order online.
What You Will Receive
Computer Configurations
Desktop Configuration
Intel Core i3 Processor or higher
8GB Memory
250GB Solid State Drive
19″ LCD Monitor
Keyboard, Mouse Speakers
Desktop Upgrades
More Storage Space
Larger Monitors
Wireless Keyboard/Mouse
Wi-Fi Capability
Laptop Configuration
Intel Core i3 Processor or higher
8GB Memory
250GB Solid State Drive
12″-14″ Screen Size
Internal WIFI, Speakers, Webcam
Laptop Upgrades
More Storage Space
Memory Upgrade
Bigger Screen Sizes
External Monitor, Keyboard, Mouse
Accessibility Software Included
Our computers ship with a Home Annual license of JAWS screen reader OR ZoomText Magnifier, available through our partnership with Vispero. Details of this program are outlined below.
The Home Annual license is good for one (1) year, licensed through the Freedom Scientific portal with an email address you provide.
This gives the user full access to JAWS OR ZoomText during that first year.
After the first year, the software expires and the user will be required to renew the license to be able to continue using the software.
We require an email address to license the software for the first year. This email address is necessary for the user to access the Freedom Scientific Software Portal to manage the license after receiving the computer.
The computers we ship are donated, so here are a couple points about the hardware.
The condition of our computers varies. They may have some physical damage, but we ensure it doesn't affect the performance.
We cannot test remaining life on laptop batteries. Although we will test that the battery will hold a charge, we cannot guarantee how long that charge will last, so we don't provide warranty support on batteries.
Our inventory depends on donations so we cannot predict what we have in stock. We don't normally allow requests for specific models.
Using a computer for the first time can be a challenging task, but we believe that the freedom that technology provides is worth the effort it might take to learn. We provide basic instructions and resources to help you get started. There are also other organizations and resources available that can provide support. Dr Langford, Computers for the Blind's founder, said, "When you are blind, learning the computer is a lot of work. It takes real dedication. For those like me who put the effort and time into it, it is a tremendous miracle."
Ordering a Computer
We offer both an online application, as well as Customer Service agents over the phone. If you have any additional questions about what we provide with the computers, or anything else about the ordering process, we invite you to call us at (214) 340-6328 to talk to a live agent. Our Customer Service hours are Monday-Friday, 9am to 7pm. If you wish to start your order online, the following link will take you to the order form. After you submit your order, a Customer Service agent will call you to complete the order, including payment.